In Bloom, A Spring Themed Blanket Crochet Along 2020
Wow, I'm sure this Spring is not turning out how anyone was expecting it to. With most of us stuck inside social distancing this is the best time for us to turn to our hobbies to fill the time. I first started crocheting as a form of therapy to keep my mind calm in times of stress and have felt myself turning to this to keep my days feeling normal in these uncertain times.
For the month of April me and some amazing designers have collaborated together to make an amazing mystery blanket that we hope you will all enjoy. The theme all the designers were given was "In bloom" and they did not disappoint when it came to creativity.
How does it work?
From April 1st until April 30th each designer will present an 8×8 inch square representing the Spring season. All these squares can be combined together to create a personalised blanket. You can use all of them, or a combination of your favourites to create an amazing heirloom.
Each days featured designer will be giving their design away as a FREE PDF download. To get these free downloads visit page each day of the month, where the pattern will be posted daily at 8am EST. If you would like to get daily reminders for your squares you can follow this page by 
signing up to my newsletter
 and follow along on 
Instagram
.
Spread the word. Pin this page to your favourite 
Pinterest
Board
What do I need to do?
Every day you will visit this post where you will find the latest pattern. Under each pattern, there will be instructions including a CODE to get the FREE PDF. You will be lead through to the designers' blog where you will find within their page text that reads "Click HERE to download the free PDF download". Some designers will be including this free download either directly from their site or through Ravelry.
Supplies

To make it easier to follow along all designers worked from the same yarn palette. Some squares could include up to 4 colours, while others may have only 1.
We used Mighty Stitch yarn, which we were very lucky to have donated to us by We Crochet.
The colours chosen were as follows,
Alfalfa, Ivy, Mulberry, Wisteria, Fairytale, Bubblegum, Celestial, Sky, Cream, Oyster and Canary.
If you would like to join in the CAL, join the CAL group over on Facebook. This is where you can ask any questions you may have on the patterns and share your blanket progress. You can also Make along with us on Instagram using the hashtags #inbloomblanketcal #springbloomsblanketcal and #bearrye . I will be sharing all your makes in my stories so everyone can make together!
Day 1: The Morning Mimosa Square by Faydra of Knottie Hooks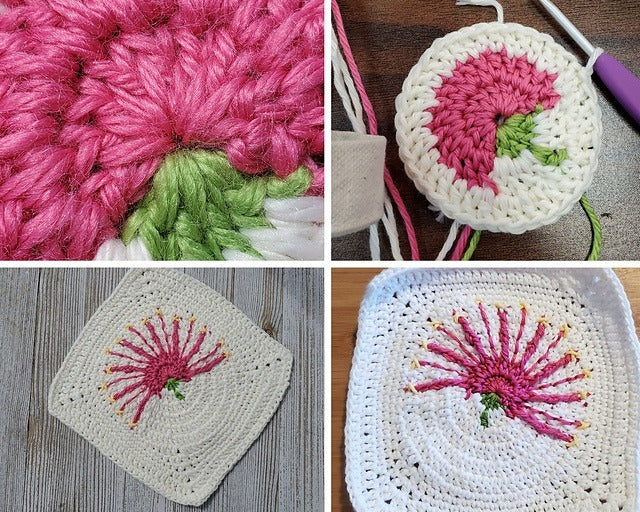 Faydra is kicking off our CAL with the Morning Mimosa square. The free PDF is no longer available but you can head here to access the
free version on her blog.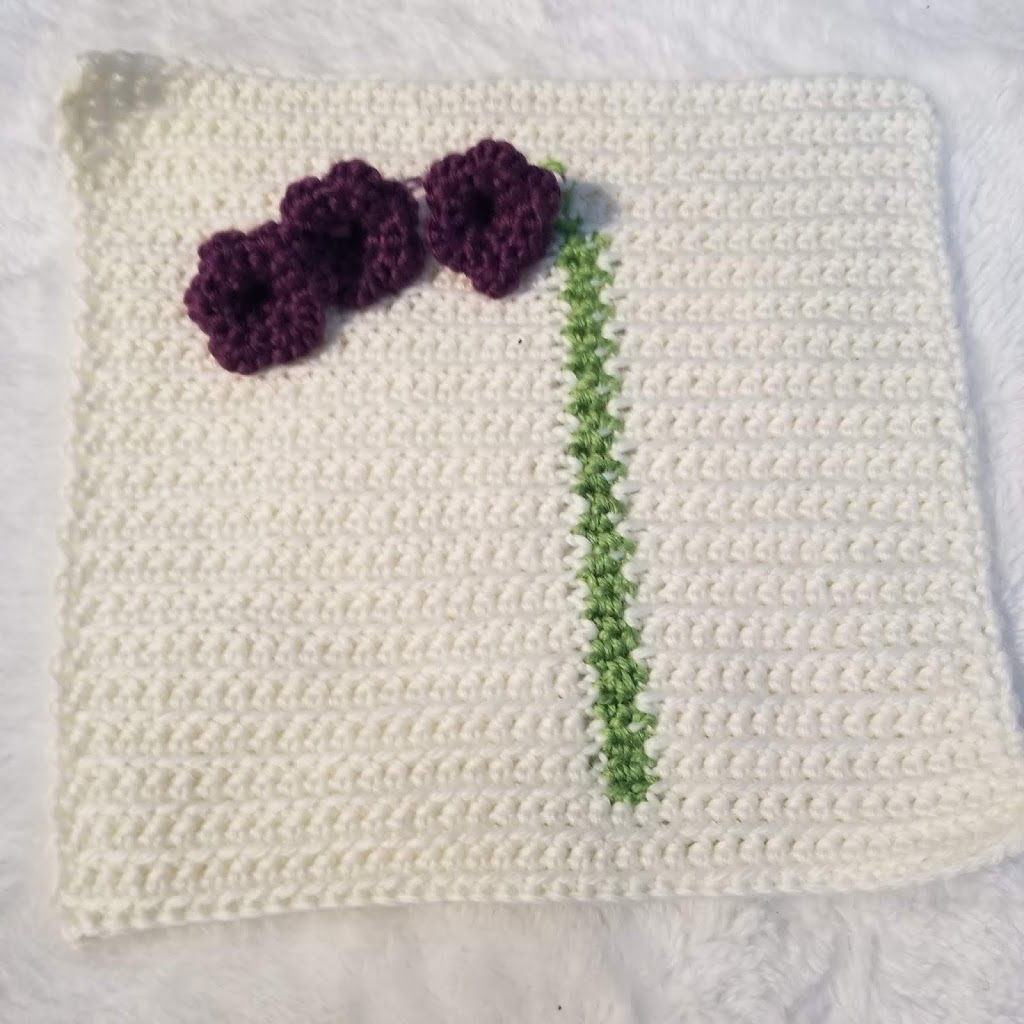 The pattern is no longer free. But you can still check out the pattern in the blog post on 
her site
.
Day 4: Twin Tulips by Janine of Capital Crochet
Head over to Jannes blog for a direct download on her website. No code is needed, download for free until April 7th 2020 midnight EST
Head over to Sarah's blog page to learn more about the trellis stitch behind this gorgeous square.
This beautiful Tunisian square is perfect for people who want to learn colourwork in Tunisian. Noor has some amazing tutorials. The PDF is no longer free but you can check out the
free pattern on her blog
Ever wanted to Learn c2c, today's square has a simple elegant feel to it. Use code 'FLORAL409' to
grab your FREE PDF
until 10am EST April 10th.
Sarah has made her second square of the CAL, another gorgeous texture square. To get the FREE PDF scroll all the way through her post until you find the download PDF here button for the Shell Stitch Square and use the code "SPRINGBLOOMCAL" at checkout.